HERBAL INFUSIONS WITH DOUBLE USAGE!
An original mix of herbs and aromas for infusions, combines enjoyment with ecological awareness, offering valuable food to bees, which are threatened by modern farming techniques
How can a cup of our favorite beverage "save" bees? The answer is very cleverly given by "Melissafarm" in this original way: mixtures of herbs and aromatics for decoction, are closed in a cardboard (recyclable) container, which after use turns into a pot! What will you plant inside? The seeds that come in a sachet along with the packaging and which will become plants that bees love TO VISIT!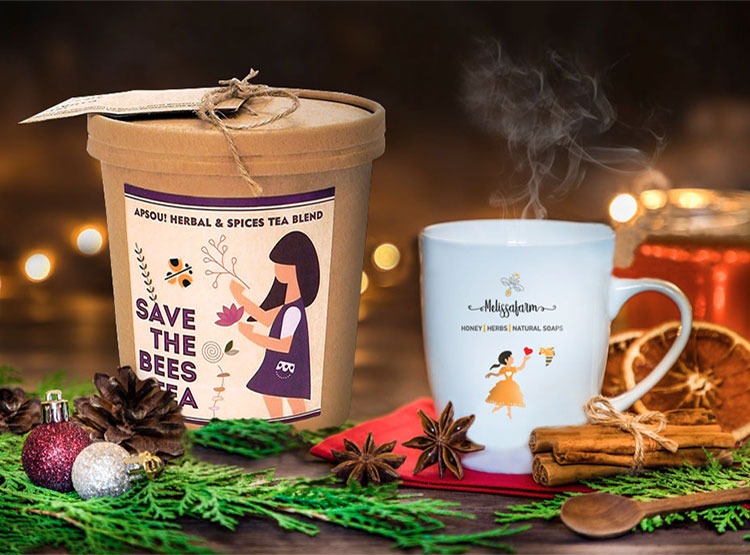 These are flowers such as lavender, honeysuckle, marjoram, rosemary, thyme, etc., which need only a little soil and water. AS THEY GROW up, they will provide valuable food to bees that are now seriously threatened by the reckless use of pesticides on crops. With a series of such pots on our terrace, we create a small flower garden and offer a gift to nature, returning the benefit that she's generously provides.
Speaking of content now, the 12 decoction blends of the "Save the bees tea" series, inspired by the creators of "Melissafarm", are original, with thoughtful combinations, while the flavors are really delicious. Participating are finely chopped herbs, flowers, aromatic plants, spices that offer health and wellness. For example, "Jasmin Rose Tea" is based on mountain tea and contains jasmine, rose buds and apple geranium
In the series we will find the eloquent blends "Apsou! herbal blend tea ","Sleep baby sleep!", "Ohh! My God Aphrodisiac herbal tea", "Beauty", but also the "Olive leaves" super antioxidant. In addition, a lemon decoction, "Herbs & Fruits" for children, "Choco-Mint", "Vanilla Harmony". The box contains separate biodegradable sachets, so you can use the amount you want each time.
The same blends are available in very elegant retro cans, great for a gift, while a special choice for the holiday season is the "Christmas Melody". A nostalgic, festive, aromatic drink with mountain tea, asteroid anise, Epidaurus orange, pomegranate, cinnamon, nutmeg, apple and various spices.
Melissafarm is a small beekeeping unit in Ancient Epidaurus (TEL: 2753041685, 6942201009, 6494259425), created in Epidaurus by Manos Kounalis and the beekeeper Katerina Kryoni with main products HONEY, HERBS, NATURAL SOAPS, SPREADS, GIFTS, AUTHENTIC GREEK & NATURALE.

We can order their products online www.melissafarm.gr, or look for them in the partner stores